There are many reasons why 67% of all new forklift purchases are electric. Beyond the considerable savings associated with adopting an electric forklift fleet, going electric also simplifies maintenance requirements. Other advantages include:
A lower center of gravity for improved stability

Better rear visibility without exhaust and a fuel tank

Safer around food and beverage products

Quieter operating noise levels

Reduced vibration

Tighter turn radius

More eco-friendly
However, if your battery fleet is not properly maintained those savings could be lost. How a battery is maintained directly affects its life and performance. At Brennan, we understand that you have more pressing issues, and ongoing battery maintenance can quickly become lost in the shuffle. That's why Schelkovskiy &Co Brennan Equipment Services is here to help you maximize the cost savings that electric forklifts can offer. We specialize in taking care of your batteries so they can continue taking care of you.
Let's take a closer look at the difference proactive, ongoing battery maintenance can make.
Both batteries are three years old: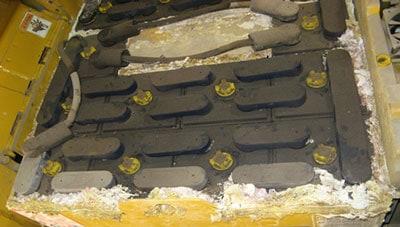 This battery was "maintained" by the customer in-house and is near the end of its life cycle. Fully charged, the battery has an expected 2-3 hour runtime. However, it has leaking battery acid that is a safety hazard.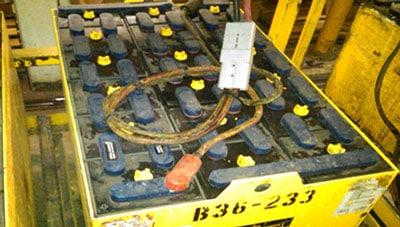 This battery has been maintained by Brennan Power and has 2-3 years of productive life remaining. Fully charged, it has an expected runtime of 6-8 hours while meeting all safety requirements.
When you partner with Brennan for your battery maintenance needs, your batteries will remain looking like the image on the right. Leave your battery worries to us. We will perform a survey to assess your current situation, making sure that you not only have the right mix of equipment but that you have the right technology for your needs. Do you still need to change batteries? Is fast charging necessary based on your usage? These are examples of questions that allow us to not only ensure that you have the power you need, but also that you're spending an optimal amount on the power you're consuming.
Learn more about our battery maintenance solutions here:
Do You Really Know the Condition of Your Battery Fleet?
Preventative maintenance programs
Cleaning
Watering
Safety checks
Troubleshooting
Performance testing
Mobile battery wash station
Battery handling design system
The latest battery and charger technology
High-quality batteries and chargers
Preventative maintenance programs
Cleaning
Watering
High-quality batteries and chargers
Safety checks
Troubleshooting
Performance testing
Mobile battery wash station
Battery handling design system
The latest battery and charger technology
Battery and Charger Rentals
Battery and charger systems for your forklift fleet can represent a substantial capital investment for your business. At Brennan, we help you leverage upfront costs by offering battery and charger rental on an as-needed basis. Our rental services are designed to help you scale your fleet's needs as demand fluctuates. For example, you may only need supplemental batteries or chargers for a few months during peak season but not during the rest of the year. By renting batteries and chargers, you can minimize capital expenses while still gaining access to the technology you need to maximize your fleet's potential.
Comprehensive Reporting
Part of our comprehensive preventative maintenance program includes in-depth reporting. These reports give you the tools you need to better manage your fleet, improve battery life, and track expenses. Our reports cover:
Battery temperature

Watering procedures

Discharge procedures

Charging procedures

Battery rotation procedures

OSHA procedures

Battery condition summary

Recommended proactive repairs
Our detailed reports give you all of the information you need to make optimal decisions for the ongoing success of your fleet.
Battery Preventative Maintenance
Our preventative maintenance service includes the following procedures to maximize the health and lifespan of your forklift batteries:
Voltage testing

Specific gravity acid reading

Cable inspection

Watering indicator reading

Inspection of single-point watering system

Cleaning contact points
On top of this checklist, we also incorporate battery washing into our preventative maintenance programs. The benefits of regularly washing your batteries include:
Removing acid buildup

Mitigating risk of cell shorts

Cleaner appearance

Removal of hazardous materials

Optimized watering systems

More efficient contact points
If you have any questions about our battery maintenance programs or any other material handling equipment, don't hesitate to contact our team of experts. Partner with Schelkovskiy &Co Brennan Equipment Services and we'll help you realize the substantial savings electric power has to offer!
Let Schelkovskiy &Co Brennan Equipment Services help you realize the optimal level of savings electric power has to offer!