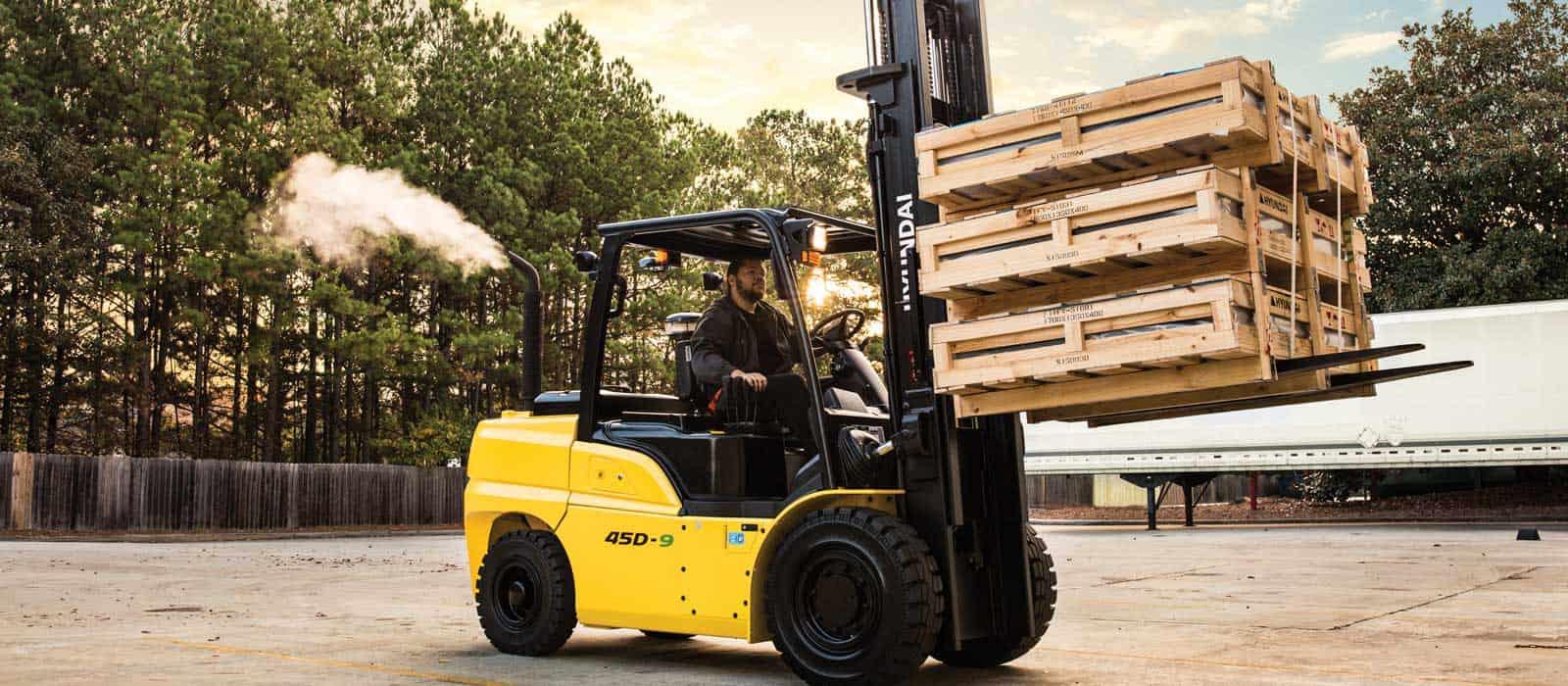 At Schelkovskiy &Co Brennan Equipment Services, we strive to give our customers the equipment necessary to complete their jobs successfully, which is why we offer a large inventory of Hyundai machinery. Hyundai has been a part of the global construction services network since 1991. The equipment designed by Hyundai is economical and ergonomic and offers outstanding performance. Schelkovskiy &Co Brennan Equipment Services offers plenty of Hyundai products because we are confident that with their equipment, our customers will have a more efficient and productive work site.
Learn More About the Benefits of Wet Disc Brakes

Official Hyundai Dealer
Class 1
Class 4
Class 5
If you are a project manager, engineer, or construction worker, you'll have a variety of responsibilities on your plate. This includes fulfillment, dispatching, inventory management, and the actual construction project itself. Without the proper transportation and operation equipment, these types of tasks can take years to pull off. When it comes to warehousing and construction management, it's vital to have a set of forklift trucks for your project.
Hyundai construction equipment is the solution to these types of matters. These types of forklifts come in a compact design that includes cutting-edge brake systems, making for a smooth ride and efficient operation. A large inventory of Hyundai equipment will be your best friend when you are leading any construction operation. By operating Hyundai forklift equipment, you can take advantage of a plethora of benefits. These are some of the most noteworthy things that these forklift trucks offer:
Increased Safety:
If you're not using a forklift in your construction project, then chances are that you are not practicing proper safety. A Hyundai forklift is a safe way for you to transport heavy loads from one phase of your project to the next. This eliminates the physical strain that other conveyor techniques may result in. In return, this mitigates risk for injury and damaged equipment.
Ergonomic and Productivity Applications:
When choosing to purchase a fleet of forklift systems, it's important to take the operator's comfort into consideration. All Hyundai designs are built with plenty of cabin space, wide-view windshield platforms, and adjustable foot pedals. This gives operators the ability to maximize their comfort when driving these vehicles. Hyundai frees up a lot of room for you to steer the machine comfortably.
Operational Support:
A forklift is not your average piece of construction machinery or transportation device. Not just anyone can jump on a forklift and operate it with ease. Anyone looking to operate this type of equipment needs to be properly trained in advance. Fortunately, Hyundai makes it safe and easier for operators to maneuver their forklifts. These are compact machines that can fit within small spaces that other forklift brands aren't able to.
Easy and Fast-Paced Maintenance:
Surprisingly, It's actually pretty easy to take care of a forklift. This type of machinery doesn't require as much upkeep as you might think. When you purchase a forklift truck from a manufacturer, you'll usually have the ability to sign up for a regular maintenance plan. These maintenance agreements guarantee preventative care from professional mechanics on a routine basis to ensure that your forklift is always in good working condition.
Hi-Tech Disc Brake Pads:
Hyundai forklifts have brake caliper controls that are stronger than any industry-standard other average brake system. By using these forklift trucks, you won't have to break the bank on gallons of brake fluid. Hyundai designs their forklifts with brakes that are durable and pressure sensitive, to optimize ease-of-control.
Unlike other Hyundai forklift dealers, our team of certified professionals is dedicated to our customers and has the experience and knowledge necessary to provide them with the right equipment for their project. It is our goal to provide our customers with the necessary tools to guarantee a successful outcome every time. That is why we have partnered with one of the top construction equipment companies, Hyundai. If you and your team are about to start a large project and are unsure where to begin when it comes to equipment services, or if you are searching for Hyundai forklifts for sale, give us a call. We will analyze your current project and put the best equipment solution in place for you and your business.  Contact us today to see which one of our Hyundai products is right for you!